Betty Munt of the Pipersvale Miniature Smooth Dachshunds passed away peacefully on the 9th December 2017 age 90, she was one of the most famous names in Dachshunds.
She bought her first Dachshund a standard Smooth Haired in 1949 and started showing at local shows, later buying another one & started showing at Championship shows, and ran the coaches to the shows around the Country for many years, meeting people in other breeds & enjoying the social side of the dog world there was never a dull moment on these trips.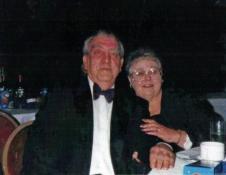 Later on Miniature smooth's caught Betty's eye , she bought a dog & bitch from top breeder Joan Littmoden of the famous Wendlitt's the dog been called Peter Piper Of Wendlitt from this name creating her affix of Pipersvale (Piper from the name of the dog and vale from the area she lived, she went on to produce a distinctive type in her homebred dogs & was a clever handler & top breeder, nearly all her dogs were named after drink names.
Over the years there were a large number of champions many of them multiple CC winners from the fifty's onwards , but Betty will forever be associated with one dog in particular Champion Pina Colada who had amazing career following on from winning quite a few CC as a puppy, he went on to win Best In Show at Southern Counties the first miniature of any coat to achieve this at a general Championship show under the well known Judge Terry Thorn for a while he was the top Dachshund CC winner of all varieties and a leading stud dog appearing in most of to days miniature smooth pedigrees & still is the breed record holder in Min Smooth's having won 70cc.
Betty also established a line of successful Chocolate & Tans in the ninety's one winning the Dog World /Spillers Puppy Stakes, another winning Best In Show at Midland Counties Ch show.
Over the years Betty has Judged all over this country & abroad, served on many of the Dachshund Club's committees and up to the time of her death was the President of The Smooth Haired Dachshund Club.
In 2012 The Dachshund Club presented the first ever Life Time Achievement award, Betty was the first recipient of this award given in recognition of her many years contribution to the Dachshund World.
Betty Loved all her dogs whether they had won top awards or not and stayed with her until they passed on in spite of having many offers of big money to send them abroad.
In later years when no longer showing Betty would come to the shows and watch, give advice & welcome newcomers, many like myself have learnt a lot from Betty over the years & succeeded in the dog world with her help & knowledge.
Betty was quite a character, a very forthright Yorkshire Lady who told it as it was, but was generous & a good friend to many, We will all miss one of the greats of Dachshunds and she will never be forgotten.
Katherine Herrington.